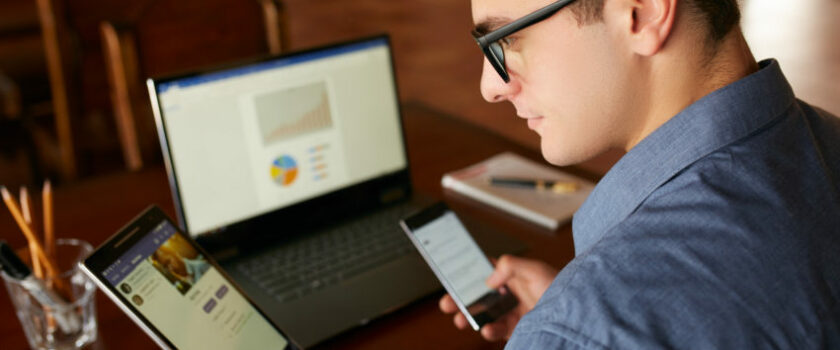 We live in an age of glowing rectangles, buzzing smartphones, and unlimited entertainment options. It's the era of TL;DR, where innumerable sources of work and fun are constantly vying for our attention.
Through email, text messages, news articles, advertisements, and industry reports for work, we're bombarded with thousands of words a day. We couldn't read them all even if we wanted to.
So sometimes it's nice to just sit back and have someone talk to you, to passively engage. No wonder YouTube and podcasts are so popular–in a world where we are asked to read everything, it's a relief to hear someone read things for you. 
Giving accounting job applicants a passive experience
This same environment permeates the lives of the accounting talent you're seeking to recruit to your firm. No matter how creative, captivating, and engaging you word your accounting job posting, some candidates aren't going to read it. Not because they don't want the job or aren't interested in your firm–simply because they've reached their limit of the words they can read that day.
That's why it can be such a big help to add a video to your accounting job posting. It allows the candidate to sit back and passively engage with your firm, to see what it's like to work there without the weight of expectation and responsibility.
But when you're creating your video or deciding on which video you want to add to your accounting job posting, be careful. Not all videos are created equal, and missteps in production can cause talent to develop a low opinion of your firm.
To help you out, we've put together a few guidelines for the best ways to add a video to your accounting job posting. And we've provided some examples of videos we think are doing it right.
Make it feel natural
While a video introducing your firm to a potential applicant is in many ways a commercial, try not to make it feel too much like one. It's OK to write a script, but make it loose and encourage people to ad-lib.
The best videos let employees talk naturally and freely. The result is something that gives applicants a sense of the culture at your firm without making them feel like they're being coerced into something.
"If your video is like a really bad '90's law firm commercial, where you walk into the scene and see a fake plant, I would not include it," Kyle Schmitz, director of product design at Accountingfly, said. "You're trying to build a brand here. You're trying to convince people that you're progressive to some degree."
Here's a good example of a promo video that feels like a real conversation. The employee is working from a script, but he's ad-libbing and paraphrasing along the way to make his speech sound more natural:
Don't lose the forest for the trees
Video production is a long, complex process with many steps along the way. You may have to spend hours re-shooting a single scene or recording dull establishing shots. As such, it's easy to get lost in the sea of effort required to pull off individual aspects of the video.
Try not to let that happen. Continually remind yourself of the overall goals of the video, and make sure everything you do, no matter how minor, is working toward that goal. If you get too caught up in editing a particular scene or reconfiguring the lights for the thousandth time, you may wind up creating a video that sends a different message than the one you set out to communicate.
Check out this video and note how it tells a sleek, simple story about changing the book-closing process for accountants:
Work within your budget
If you can afford to hire a professional production company to shoot your video, that's great. But if there isn't room for that in your budget, you can still create a video that will improve the results of your accounting job posting. A simple guerrilla-style iPhone video can work, as long as the person on camera has some personality and charm.
Here's an example of a virtually zero-budget video that does an excellent job of promoting the firm:
Keep it short
As San Francisco journalist Herb Caen once said, "I sometimes worry about my short attention span, but not for long."
While this is our simplest tip, it may also be the most important. As we said at the beginning of this post, we live in the age of distraction. If you add a video to your accounting job posting and it's too long, the applicant will get bored and click away. He might even think of your firm as one that doesn't "get it" when it comes to digital media and abandon your job posting entirely.
At three minutes, 14 seconds, this promo video is just about the perfect length. It also stays focused on the big picture. Every element and interview gives the impression that this is a flexible, fast-growing firm–one that's smart about how it chooses clients and provides real work/life balance:
Trust the experts
Looking for recruiting advice beyond whether to add a video to your accounting job posting? Check out this blog on what to do if your accounting job postings aren't working.
Then contact Accountingfly. We'll help you create killer accounting job postings that attract the best talent for your open positions. Just click the link below to get started.